Hello all,
I would like to introduce you to my girlfriend and I's new project car: Sonic. The car is an '84 Hatchback with T-tops. It was a GT from the factory with a manual transmission. This is a long term project and I will try to consistently update this thread with the progress. ETA on a running car is next summer.
The car will be running with a slightly modified Olds 455 Rocket. Slightly modded means a cam, maybe an intake and carb, and that's it. The engine is good for around 500 ft-lbs of torque in stock form which should be enough
Note: I have read that the 455 will almost perfectly mount to the factory motor mounts. Some slight modification will be needed, but otherwise the engine will fit.
The name Sonic came about because the car will be painted Sonic Blue and will be about as fast as the hedgehog.
Introduction
First I would like to state that this project is my girlfriend's project. I am helping her, as I have experience with mustangs and engine swaps, but it is entirely her car. She paid for it, she has the engine, and she is doing much of the work herself.
My girlfriend has been searching for a project car for the better part of a year. She was looking for anything from fox bodies, to early SN95s, to 80s camaros (thankfully she did not end up with a camaro). She already has a 455 engine that she plans to use in the project.
The first thing we noticed was people want way too much money for these rolling cars with no drivetrain. Why would I pay $1500 for a car that has no engine or trans?
After waiting patiently, I happened to come across an '84 GT (roller) with T-Tops. It had been posted on craigslist not an hour before I spotted it. I gave the number to my girlfriend right away. She texted him and arranged to look at the car.
The owner planned to turn the car into a 4cyl dirt car to beat on, but he decided he didn't want to destroy a T-Top fox body. He also wanted a reasonable $400 for the whole rolling car; a deal my girlfriend could not pass up. She purchased the car and it was trailered home the next day.
Inspection
Both times we had looked at the fox, it had been dusk and getting dark. It was hard to see much, but I made sure to check for rust everywhere. The strut towers and torque box were all rust free. The passenger floor board however had rusted through partially. This didn't worry me as I can weld in a new floor board for around $100.
The engine bay is very clean, no rust besides a very small bit on some sheet metal (around where the air filter sits). No big deal, it looks like a previous owner had already scraped and painted over the rust. There was no hood included with the car.
The interior is mostly there, but very beat. This is going to be something we tackle later, but I would love to swap an SN95 dash into the car. The 30 year old interior just doesnt cut it (have you seen the interior illumination? A flashlight bolted to the ceiling). The car has three pedals and the correct set up for a manual transmission, a very good sight. I didn't want to have to be doing a stick conversion.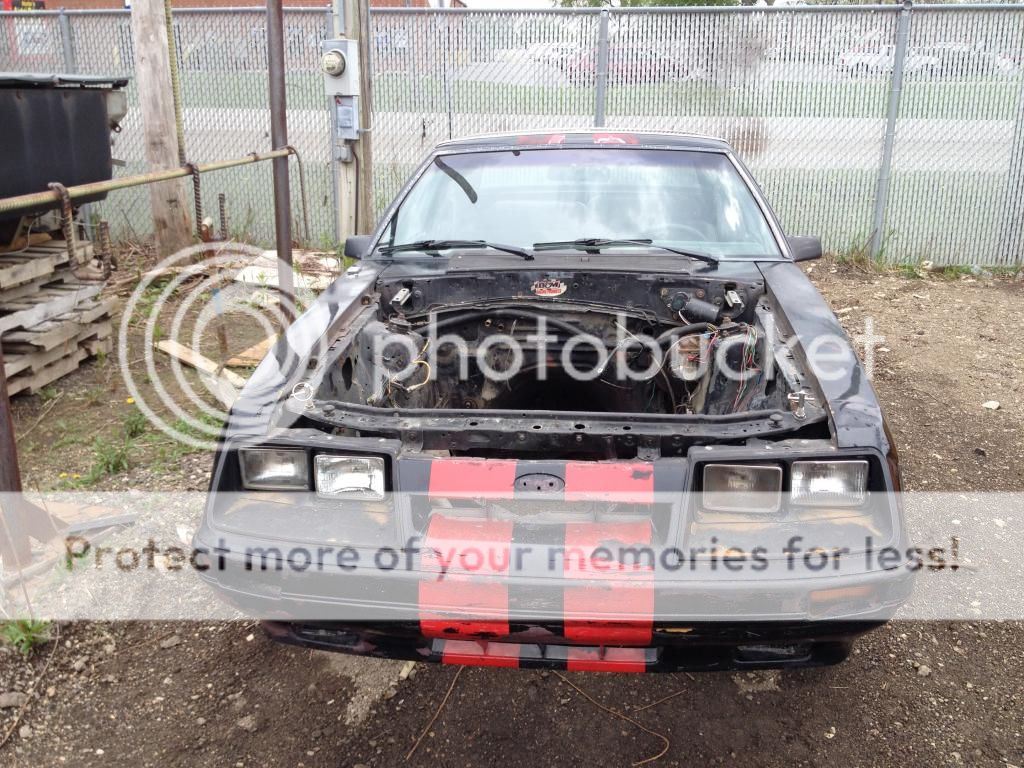 Other noteworthy issues:
-The hatch has some rust. Not sure if it will be a problem or not.
-One T-Top has a broken pin. Seems like an easy fix.
-Door handles are very wishy washy. Sometimes they open, sometimes they dont.
-Not sure if it leaks or not. It doesn't appear to though.
-Windshield has a decent chip out of it. Will look into costs to replace.
Current Plans for Car
This project is just starting up, and won't be done for at least a year maybe two. This is going to be a budget project and will be slowly worked on in our free time. I am going to list the plans in somewhat chronological order:
--Rebuild 455 Rocket V8
-All new seals
-Cam splash guard
-Hoping the bottom end is fine
-Cam swap of some kind
-New Spark plugs
-New Carb
-New lifters/rockers/pushrods
-Few other odds and ends that is recommended on 455 rebuilds
--Strip interior/car
-Strip entire interior
-remove all wiring/parts from engine bay
-inspect stripped car for rust/damage
--Floor Pan Replacement
--All new Weather Stripping
--Subframe Connectors and Roll Bar/Roll Cage
--Acquire hood
-Keeping eyes open for a good deal on a hood. Im not sure if we'll need a cowl or not.
--Paint car Sonic Blue
-The car will be painted sonic blue, hence the project name
--5-lug conversion with gear change (not sure on ratio)
--Decide on, and acquire suitable transmission
--All Mechanical gauge cluster
--New interior of some kind
-New Seats
-New Carpeting
-New Door Panels
--Wire up the car
-going to try and keep this minimalistic with the wiring. Electrical is not me or my girlfriend's strong suite and would like to keep a clean engine bay as well.
--20% Window tint
Those are the plans I have somewhat sporadically come up with in my head. Of course with time, plans will change and budget will play a factor in everything.
I am also asking for any advice people have, things to look out for, things to check, any common issues I can knock out now? Any advice is appreciated.
Thanks for reading, and stay posted for many more updates in the future. Updates will include pictures, videos, and my walls of text


~DutchManDann