What's up everyone,
From the Original Creators of HIN, comes the ROADSTAR Car Show. Happening
at Englishtown Raceway, New Jersey. Competitors will compete against each other to see
who's ride truly is the best in the industry!
Done in conjunction with the F4 Challenge (formerly known as the NCCA)
every element of the competition cars will be scrutinized to the highest
degree. You even have a shot at taking home some cash!!
REGISTER NOW! BY CLICKING HERE!
https://secure1.webconnex.com/D1GPUSAChicago_carshow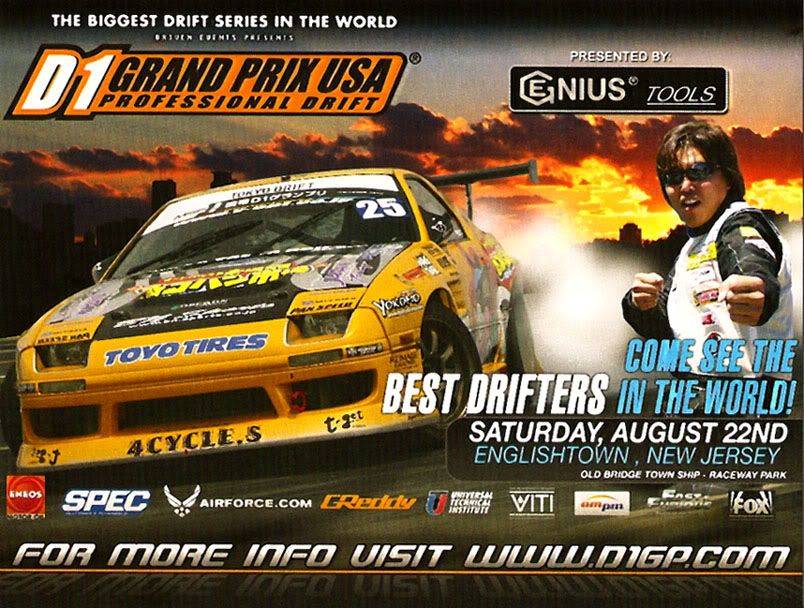 Who: You and anyone you want to bring

Where: Englishtown Raceway

What: D1 Grand Prix RoadStar Car Show

When: August 22nd 2009 (roll in 7am to 10am, show

10am to 6pm)

To pre-register click here:

https://secure1.webconnex.com/D1GPUS...shtown_carshow

This is an ALL-DAY event so you don't have to leave your car overnight!

D1 is looking to gather 200+ import performance enthusiasts and their

rides to create the RoadStar Car show along side the D1GP Racing. The car

show fee will be

$45.00

and includes 2 tickets for bleacher seating plus a

chance to win awards.

(If you just purchase 2 bleacher tickets as a
spectator you would be looking at $70.00)

that's a $25.00 discount plus

your car will be parking in the show avoiding additional parking costs and

you will have a chance at taking home an award.

Besides the great pricing the event will include non-stop all day racing,

Motorcycle stunt show, plenty of vendors selling good, the beautiful D1GP

girls and so much more.

ROADSTAR : F4Challenge Competition Divisions

Chase Awards

Novice Division award Plaques 1 for every 8 cars entered

Diamond Award Plaque 1 per event no entry minimums

Amateur Division award plaques 1 for every 8 cars entered

Diamond Award Plaque 1 per event no entry minimums

Experienced Division award Plaques 1 for every 8 cars entered

Diamond Award Plaque 1 per event no entry minimums

Club / Team Award Plaques 1 for every 3 teams (5

vehicle team minimum)

Diamond Team Plaque 1 per event no entry minimums

ROADSTAR Show Classes

Vehicle Make Competition:

Japanese Import

Hottest Performance Based Acura

Hottest Performance Based Honda

Hottest Performance Based Nissan

Hottest Performance Based Infinity

Hottest Performance Based Mitsubishi

Hottest Performance Based Toyota

Hottest Performance Based Scion

Hottest Performance Based Lexus

Hottest Performance Based Subaru

Hottest Performance Based Mazda

Hottest Performance Based Other (Kia, Hyundai, Daewoo)

European Import

Hottest Performance Based Audi

Hottest Performance Based BMW

Hottest Performance Based Volkswagen

Hottest Performance Based Mercedes

Hottest Performance Based European Other (Saab, Volvo)

Domestic

Hottest Performance Based Dodge

Hottest Performance Based General Motors

Hottest Performance Based Ford

Misc.

Hottest SUV

Hottest Truck

Hottest Classics (Pre 1986)

All Show 1-5

Performance Awards:

Outstanding JDM Theme 1-3 $100.00

Outstanding EDM Theme 1-3 $100.00

Outstanding Drift Theme 1-3 $100.00

Outstanding All Motor Visual $100.00

Outstanding Turbo Motor Visual $100.00

Outstanding Supercharged Motor Visual $100.00

Club/Team Awards:

Hottest Club / Team Participation $200.00

Hottest Club / Team Overall $300.00

Best of Show:

D1GP All Show Champ $250.00

D1GP All Performance Champ $750.00

Please PM, email, or IM me for any other questions.

Dubs

__________________