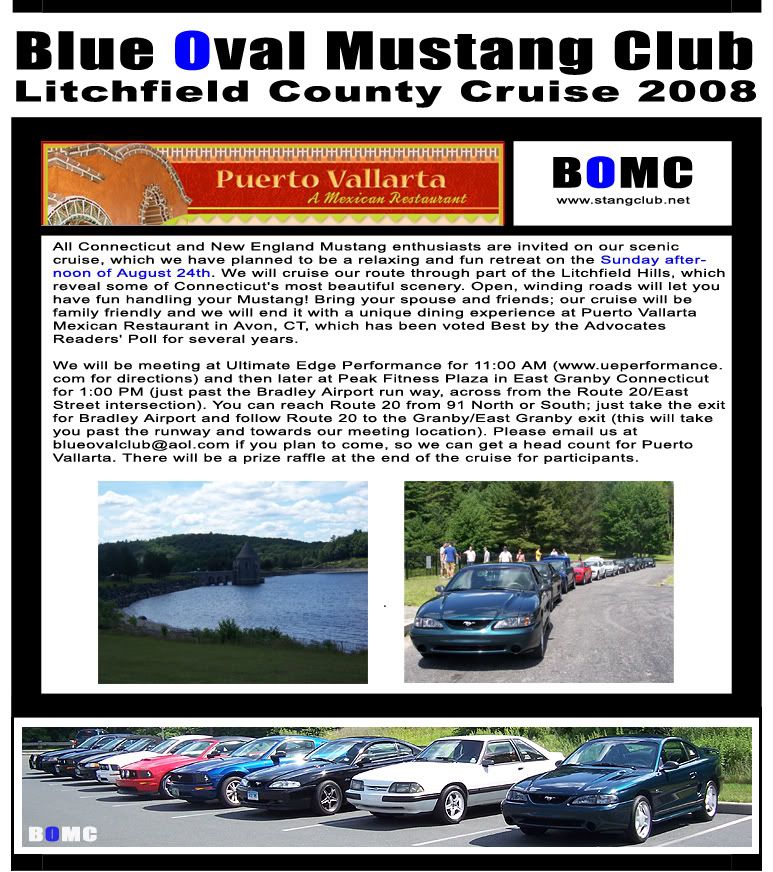 On the Sunday afternoon of August 24th we have planned our second annual Litchfield County cruise; this event is to be a relaxing and fun retreat, so mark it down on your calendars! We will cruise our route through part of the Litchfield Hills, which reveal some of Connecticut's most beautiful scenery. Open, winding roads will let you have fun handling your Mustang! Bring your spouse and friends; our cruise will be family friendly and we will end it with a unique dining experience at Puerto Vallarta Mexican Restaurant in Avon, CT, which has been voted Best by the Advocates Readers' Poll for several years.
We will be meeting at Ultimate Edge Performance for 11:00 AM (
.:: Ultimate Edge Performance ::.
for directions) and then later at Peak Fitness Plaza in East Granby Connecticut for 1:00 PM (just past the Bradley Airport run way, across from the Route 20/East Street intersection). You can reach Route 20 from 91 North or South; just take the exit for Bradley Airport and follow Route 20 to the Granby/East Granby exit (this will take you past the runway and towards our meeting location). Please email us at
blueovalclub@aol.com
if you plan to come, so we can get a head count for Puerto Vallarta. There will be a prize raffle at the end of the cruise for participants.