So we were getting a lot of clunking from the rear axle, and we diagnosed that the upper control arm bushing (the part on the stock pumpkin) was blown. Probably not something many will have to worry about, but our axle was a used 3.55 axle out of a GT500, and it had obviously been drag raced.
Here's a link to that thread if people want to know how to actually get the axle out to begin with:
Swapping to a gt500 rear end
I ended up giving the guys at Steeda a call and they recommended this bushing for our car:
Steeda 2005-14 Mustang Upper 3rd Link Bushing Kit - Made in USA 555-4436 | Free Shipping!
Two things to note.
1. There is only one metal dowl pin included. The picture is confusing because there are two, and i couldnt figure out what the second is for, but there's actually only one.
2. Its a bit hard to find, i actually found it under the 05-09 section, not in the 11-14 section, but it will work on any 3 link 8.8 rear end.
So luckily Steeda includes some instructions for building your own bushing puller kit as well. The mention you need a pipe with a 2.25" ID. So, i headed over to Home Depot Racing, and found this nice thick PVC joint that was 2.3" ID. Perfect. I like using the thick, threaded, sections for doing stuff like this, because i have honestly had PVC explode on me in situations like this when the bushings are REALLY in there. I make a note of covering what i am working on with a towel now.
At any rate, i basically just got a long piece of All-thread, some washers, nuts, and the PVC, grand total was like $8. As you can see here, you basically just brace the PVC against the bushing housing, use a washer on the other end, and start cranking.
Now, normally when doing something like this the bushing will just push right out with no drama... Well, this one was in such bad shape that it literally just punched the metal dowel that the bolt goes through out of the center and left most of the bushing in the housing... crap. Luckily though, the bushing housing ID is like 1.6" or 1.7", because i had a 1.5" speedbore bit that JUST fit on the inside. Ran that thing through a few times to punch most of the crap out, cleaned the last little bit up with a wire wheel on the dremel, and the new Steeda bushings went right in.
So, since we were going to have Valerie's car up in the air, i figured i would install one of the transmission mount bushing inserts as well. Nothing against Steeda, but im personally a fan of whiteline bushings. Well, AM was sold out of the whiteline bushing, and since i was on Steeda's website anyways i figured i would just grab theirs.
2011-2014 Mustang Transmission Bushing | Steeda Autosports | Free Shipping!
I also changed the transmission fluid at this time, so i cant say 100% how much is attributed to the Steeda bushing, and how much to the Redline MTL (70w80), but all i can say is the shifter feels damn good. When you look at these pictures of the stock transmission bracing though, the bushing cant not help. You can see how much slack the transmission has, and is allowed to move before being braced. Its crazy ...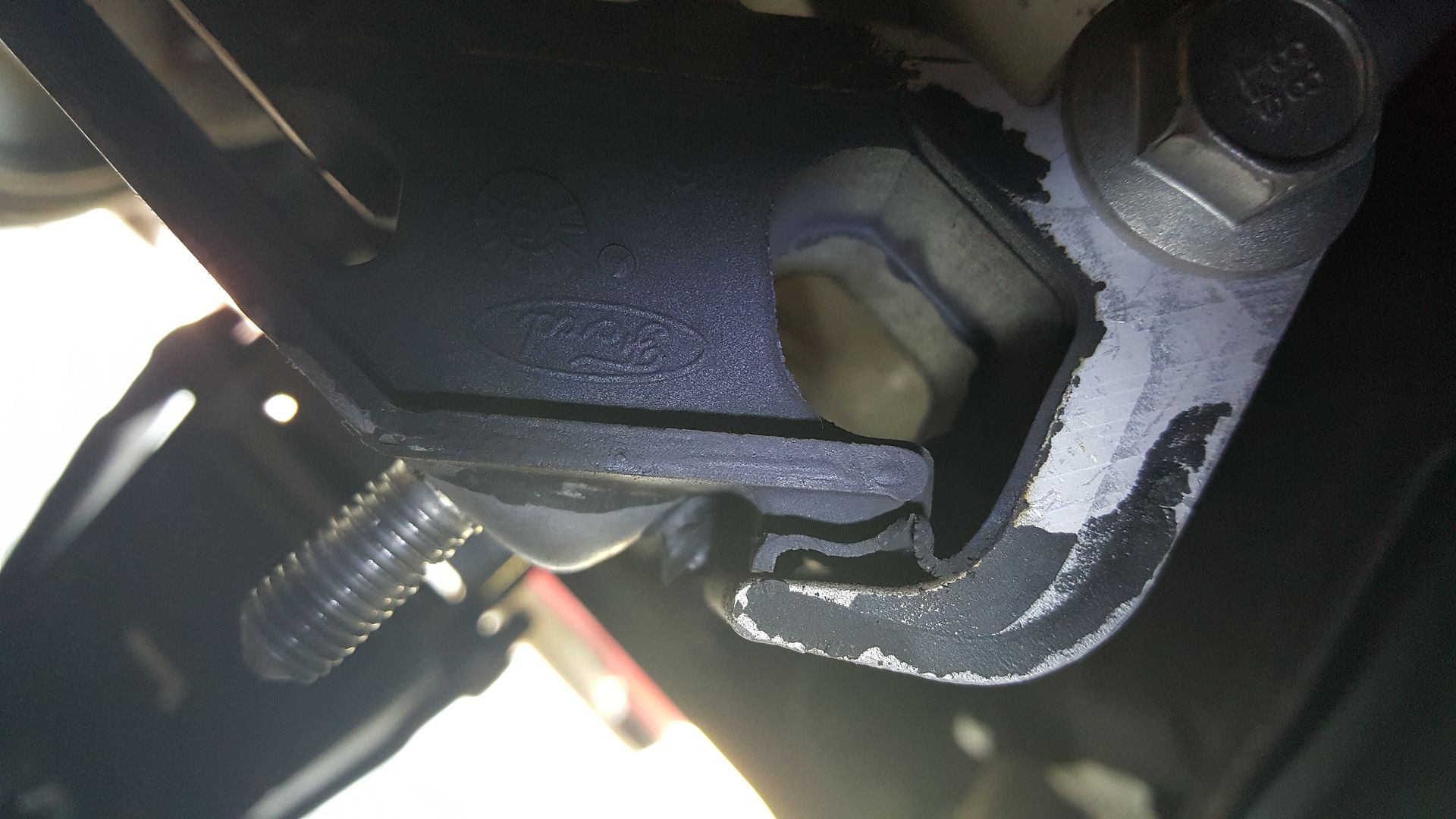 Honestly, i know some people had mentioned a NVH increase ... we didn't feel anything. Just smooth shifting, thumbs up to steeda, this thing is well worth the $30 or so they charge for it.
All in all, two pretty easy and straight forward installs thanks to Steeda's good instructions and good products.