AmericanMuscle is very proud to announce that we have teamed up with
HRE Wheels
! HRE Wheels is one of the premium manufacturers in the wheel industry today and for over 30 years HRE Wheels has been devoted to creating and manufacturing the most attractive and high preforming wheels.
HRE Performance
designs, engineers and manufactures premium aluminum alloy wheels for Racing, Performance and Luxury cars.
HRE wheels
are built-to-order to TUV verified quality standards using only the highest quality components in their San Diego, California-based, TÜV-approved facility. Every HRE wheel is created to provide a lifetime of performance and enjoyment.
The FF01 Wheel has sleek European inspired styling for your Mustang. The FF01 wheel features a stylish 14 spoke mesh design that has a very slight concave face making it the perfect addition to your modern Mustang.
FlowForm is a unique casting and forming process that results in a wheel that is similar in strength to that of a forged wheel. The wheel is low pressure cast in aluminum and is rapidly cooled to enhance its elastic strength and durability. The cast wheel is then placed in a special flow forming tool where rollers press against the barrel to pull the rim into its final width and shape. This "stretching" process improves the grain structure of the aluminum making the wheel much stronger and lighter than a standard cast aluminum wheel.
HRE Performance wheels
not only look great, but feature a durable powder coated finish that is tough enough to stand up against the hazards of everyday driving - including road chips and pitting. This
HRE Performance Wheel
is completed in a bright, high gloss finishes for a classic appearance that will be sure to turn heads for years and can be purchased in Tarmac Black, Liquid Black, Liquid Silver, Anthracite, IPA (India Pale Ale), Fog, Gold Rush, Great White, Hyper Yellow, Tequila Lime, Sky Blue, Race Orange, and Redline.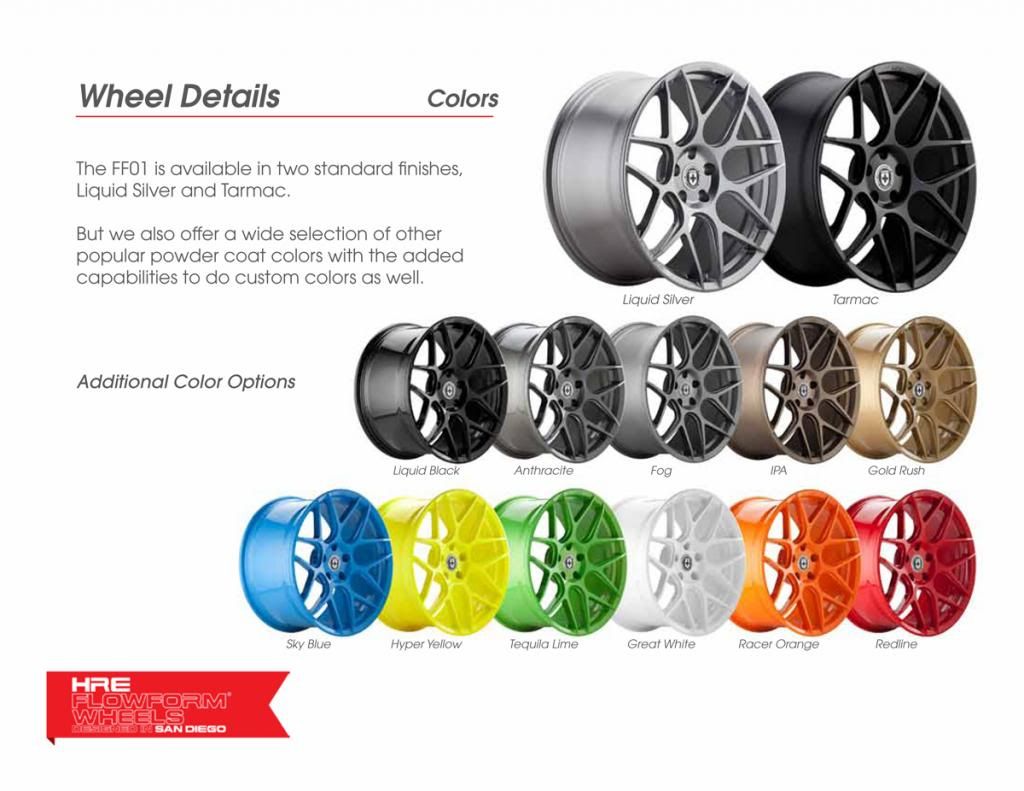 We have many different finishes and sizes on site that can be found below:

Tarmac Black Liquid Black Liquid Silver Anthracite IPA Fog Gold Rush Great White Hyper Yellow Tequila Lime Sky Blue Race Orange Red Line

If you're looking for a the highest quality wheel for your 2005 through

2014 Mustang

be sure to check out

HRE's FlowForm FF01 Series

here at AmericanMuscle.com! Don't hesitate to let me know if you have any questions or shoot me a PM, I'm always here to help out!

Alex

__________________