Discussion Starter
•
#1
•
Hey guys I've been searching and searching for this. This is what I've gathered from other forums. The 4 piston ford calipers will fit with little modifications, you will need 14 inch brembo rotors from the 11-14. The 15s have a different offset so won't fit. You will need to get 9/16 generic ID washers or the caliper won't sit right and will look like this
with the washers it will correct and fix that problem.
. Another issue would be getting a different brake line forgot what brand and will need to be trimmed to make it sit flush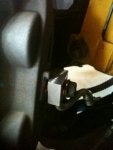 other than everything should fit fine. Again this is what I've gathered from a lot of forums and would like more info on this and help other fellow forum members go this route that's looking for a better brake set up for cheap as it will only cost between 350-500 for everything.
Sent from my SAMSUNG-SM-N915A using Mustang Evolution mobile app