Discussion Starter
•
#1
•
Well my lights quit working and I didn't feel like spending 60$ on new ones so I tried to re build them and well for 6$ I fixed them. I will say that if you have stock wiring and the lenses are crappy then it's probably be worth it to just buy new ones.
Anyways I just picked up two light plugs from autozone. I forget to take a picture of them but the are plugs for 1197 bulbs ( the ones on the left)
So first you will need to cut off the old part where the bulb went
Then you will need to cut a a cross into the remaining part on the housing and then just use a screw driver to pry the pieces off.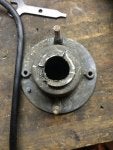 Next you will need to get the inner ring off. I used a sanding wheel on the end of a Dremel I just went around in a circle till the ring started spinning then pried it out with a screw driver.
After that it's time to rebuild it. I just took a wire brush to it and cleaned it up a bit because it will need to be grounded. I just got a wire and where the housing it self bolts on I just ran a wire from the stud to the body. Then put the new light bulb socket in and bend the little tabes over and put in the bulbs. And your done! This job literally took less time to do than writing this so well worth it. I will say that the bulbs don't fit as well into the sockets. I had to file down the bulb a bit on the little nubs the hold it in and the solder joint where the ground the bulb but after that it fits like a glove. So here's the final product.