Discussion Starter
•
#1
•
My hood recently got clobbered by a rock. I'm really careful who I follow and how close I am if I must follow someone, but **** happens lol.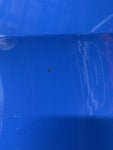 This sucker is deep and pretty large in diameter as far as chips go. Generally, I use DrColorChip, but another azure blue Mach owner suggested Kustom Canz off eBay, based on using it earlier this year. He said it matched perfectly, and the photo he showed me looked great, so I bought some. Should have it with in a week. It was right around $34 including shipping and tax for a 12oz can.
He said he sprayed some in the cap and dabbed it in place in layers. We'll see how it goes. It's hard to get azure blue to match exactly. I wish this was in a more inconspicuous place.