Discussion Starter
•
#1
•
I recently changed all my exterior bulbs to LED bulbs. As most of you already know, your new LED turn signal lights will hyper-flash or not even flash at all. Most people just get 6 ohm resistors and add them across signal wires of the LED bulb. The resistors get really hot, especially if they are less than 50watt resistors. I hated this, especially since I have sequential tail lights. I tried the Raxiom LED sequential tail light relay from AM, but that didn't work even with resistors. It was just flashing too fast. I decided to look elsewhere.
What I found out is that they make no-load flasher relays. These are relays that do not require minimum load to flash correctly. Also, it doesn't matter if there incandescent or LED bulbs, it flashes at the same speed.
Here's the LED flasher relays for peeps who DO NOT HAVE sequential tail lights.
Novita EP27 LED Flasher
I did not find an LED no-load flasher relay that has a slower flasher speed for sequential tail lights, but I did find one that has and adjustable flasher speed. This was perfect for the sequential tail lights with LED's because you can set it to the speed you like.
PsmGoods Electronic LED Adjustable Flasher Relay
The problem is that this is only a 3 pin flasher relay and we have 5 pin relays. Fortunately, it's easy to customize a setup using 2 of these relays, one for the hazard light circuit and one for the turn signal light circuit. And this is without modifying the factory wiring.
Along with the two adjustable flasher relays, you'll need a few other things to do this project...
About 2ft of 18GA wire
5 - 1/4" make insulated spade connectors
6 - 1/4" female insulated spade connectors
Wire cutters
Wire crimpers
A few 6" or 8" long wire ties
Electrical tape
Now for the install...
1 - Locate and remove the stock flasher relay under the dash of the drivers side, above the OBD2 port. You'll be detaching the plug and it will dangle down leaving the stock flasher up under the dash.
2 - Take the wire and spade connectors and make yourself a relay harness, similar to the picture below. You will be adding about a 4" piece of wire extensions to each terminal on the new 3 pin relays.
Here's a wiring diagram I made to help you connect the relay harness you make to the proper spot on the factory flasher plug.
3 - Once you can tell what the wires are, you can connect your relay extensions into the factory plug.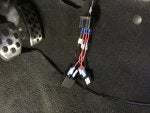 4 - You should be able to test the setup at this point and make speed adjustments when you are sure all the lights work as they should. The 60 - 70 flashes per minute seem to look best with sequential tails. I have mine on the slowest setting of 60, but experiment to set yours where you like the look best.
5 - Now your ready to hide your relay setup. before you do this, make sure your relay connections are fully covered with the spade connector insulation. If not, wrap a little electrical tape around them. I shoved mine up under the dash and wire tied them to a harness in the general vicinity of the stock flasher location and positioned them so I could make speed adjustments if I wanted.
This setup works great for me and looked great compared to the incandescent bulbs. I also feel so much better knowing that I don't have resistors heating up against plastic or wires at my light housings.
I hope this helps out some of you!