Discussion Starter
•
#1
•
Howdy all again. This one I KNOW is old news since I've been doing it for ages. But since I just had to do it again and get asked from time to time, here you go with an old installers trick.
PATS keys are... dumb in my opinion. They make a vehicle mildly more difficult to steal but not noticeably so if someone really wants your ride. I think the ford system only prevents the fuel pump from turning on, so simple enough to bypass that in about 10 minutes, but whatever. The systems are everywhere so we get to deal with it. It makes things difficult if you're doing a remote starter and can make things expensive if you lose one of your keys.
The way a PATS system works is pretty simple. A chipped key contains an RFID capsule. When energized it sends out 1 specific signal. If your car recognizes the RFID, it starts. If not, it doesn't.
Since remote starters don't have the RFID you're stuck with installing a bypass module that either steals one of your precious precious keys forever, or a more expensive module that mimics/bypass the RFID. The key in module is cheap, except for basically losing $150 worth of car key to use it. So just as good IMO is a $1 bypass.
Done with the rant and on to the work!. To access the parts you'll need to remove the ignition lock and at the plastic clamshell steering column cover.
This is the PATS antenna (black ring) and module (black box below it.) The antenna is what queries the RFID capsule in the key. It has fairly limited range so if the capsule isn't close it's not going to work. So a chipped key in your pocket and a regular key in the ignition will just crank and crank, not start and run.
You have a couple different options here. You can take a working key, remove the capsule and then secure it to the antenna. This will make the car think that a correct key is in the ignition and you can start the car with non-chipped keys. The downside is you'll be losing a key to make this happen.
So the next option is to create a secondary antenna for the RFID chip itself. It's quick and as I prefer, non-destructive. No splice or cutting of wires and you can go back to stock form at will.
All you need is a length of narrow gauge wire. Strip and connect both ends (I use solder and tape) to create a loop. Then wrap and secure the wire around the key like so.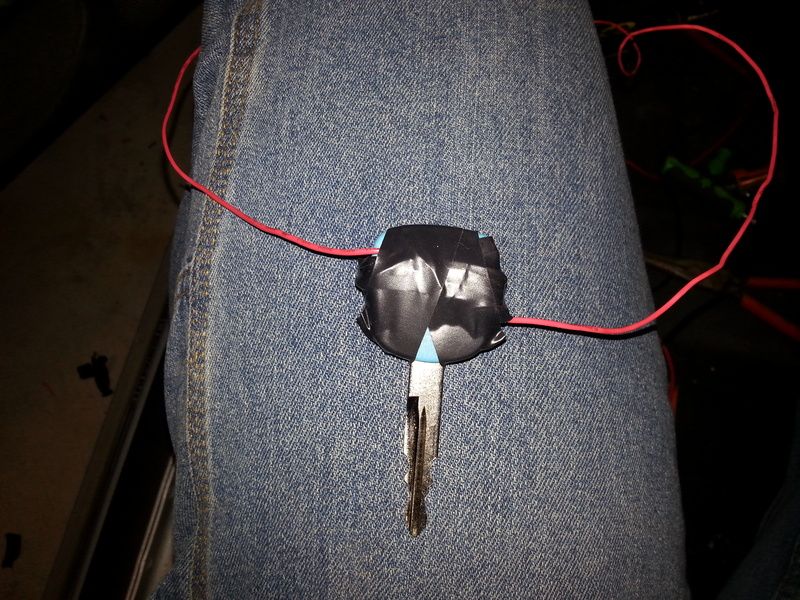 I have tried to use a length of non-looped wire, like this pic, but found it DIDN'T work. Once looped though, off to the races!.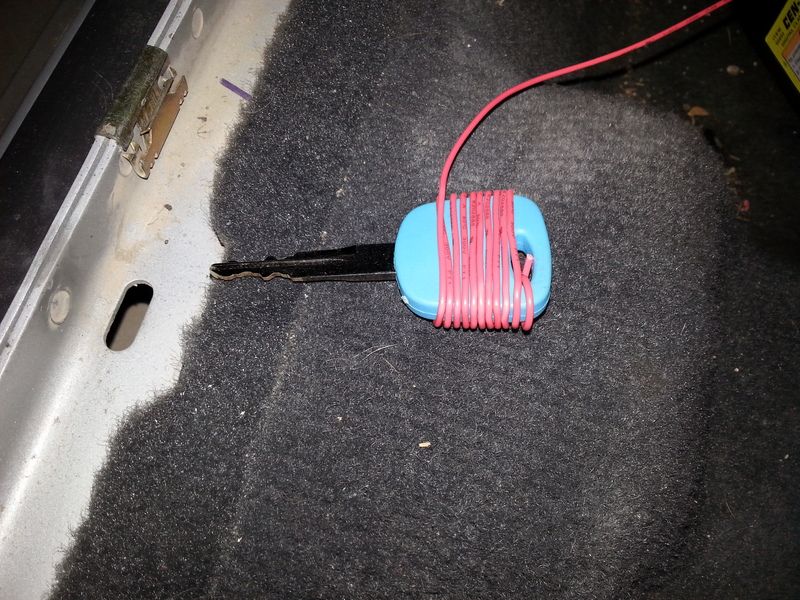 Take the rest of the wire and wrap tightly around the PATS antenna, secure it with tape also.
Then put the key pretty much wherever you want.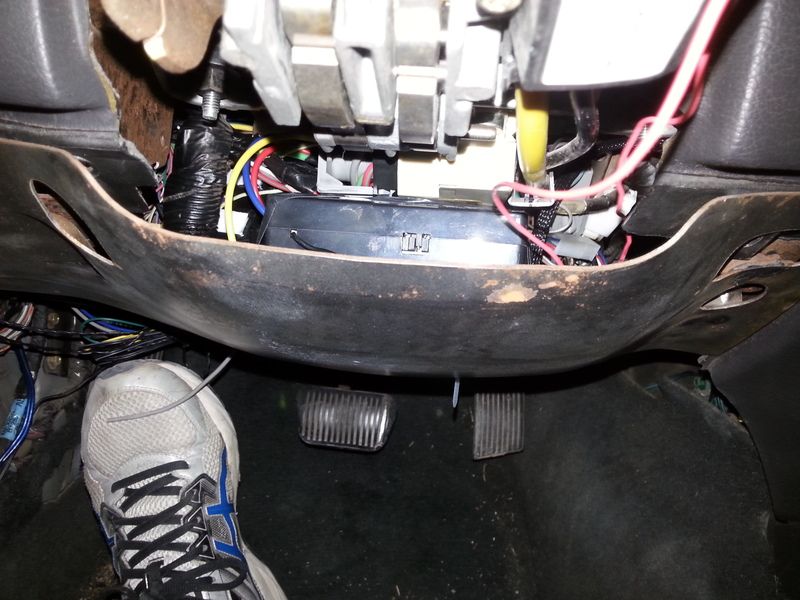 At this point test your work before you button everything up! Try starting the car with either a normal key or with the remote starter. If it starts and runs you did it right. If not re position the wires and try again. And there you go, an inexpensive fix for a silly problem. The PATS system energizes and the wire wrap works as an antenna sending the request to the key, and the key responds through its new antenna. Ezpeezy.
Interesting note about the PATS system in this car. In the past every bypass I've done was a little different as only the antenna was in the ignition area. The module itself was located elsewhere so I would generally just pull the antenna and secure it directly to the key and put the hole thing somewhere safe. I was unable to do this with this car. If the module is moved away from the steering column, it won't work. There is a 2-3" flatish section of the module, my guess is it contains and inductance coil that can see if it's next to a large ground area or not. Move it away, no start, move it back and you're up and running again. So, key antenna!
And since the key isn't trashed if you ever find you need the actual key, just pull it out of where you have it stashed and you're set.