I have a couple of progress threads ongoing in some other forums but sharing here as well...partially to whore out my videos but also to have access to as many Mustang owners as possible who can provide suggestions or tips. I picked up a 1988 Mustang GT in late January. I've wanted a fox body for a long time. The first Mustang I ever rode in was a fox body. The first Mustang I ever drove was a fox body. I've been a huge fan of these cars since I was a teenager and always wanted to own one. I also wanted a project car that I could tinker with and build up and mod and learn on. I've been making time for that experience whenever I have had free weekends over the past two months. I've been partially documenting my progress through videos on my YouTube channel and I am always open to suggestions either through these types of threads or through comments on the videos.
Here's the car..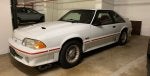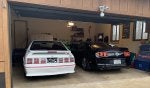 Obviously it's quite a bit of a different driving experience than my 2014 GT but the times I've driven it, it's been a blast. For now, I'm trying to focus on getting some of the obvious problems fixed and I'd like it to eventually be sort of a resto-mod cruiser/occasional track day car. Anyways, here's a link to my YouTube channel with the small progress I've made so far. Cheers.
I'm Matt. I like cars, food, and traveling. If you're interested in watching a bad amateur mechanic attempt to semi-restore and modify an American classic (w...
www.youtube.com